Transylvania Tours from Ireland – Best Halloween and Vampire Itineraries
Join us on the best Transylvania tours from Ireland. Choose a Vampire or a Halloween itinerary and then discover our amazing country. We include both places related to Vlad the Impaler and important cultural and historical highlights. On Halloween, our tours also include up to three amazing parties. We organize different types of itineraries, so read on and find out more about each of them. Our services can be split into three main branches. First of all, you can go on a Vampire Tour, running throughout the year. On the other hand, you can choose a Halloween Tour, taking place around the famous holiday, and enjoy one, two, or even three fun parties. Last, but not least, we also organize Private Tours – depart on a date which suits you best with your friends and family only.
Transylvania tours from Ireland – Departure dates
One of the most important things you need to consider before booking your tour is the departure date. You need to know this information so you can arrange your schedule accordingly. In addition to our regular tours, you can also book a private experience and set your own departure date.
Choose our 7-days itineraries and then enjoy the complete Transylvanian experience. Our 7-days Vampire tours depart once per month, between June and September. In addition to this, the 7-days Halloween experience takes place at the end of October. You can find more information about our tours' departures on our Calendar.
Transylvania Tours from Ireland – Short Breaks and Private Tours
Our 3-days Vampire or Halloween Transylvania tours from Ireland. Discover the main highlights from our 7-days itinerary on a shorter experience. These tours are perfect if you have a busy schedule or if the 7-days tours are beyond your current budget. Choose the summer editions of our short breaks, departing on request, or join us on one of our 3-Days Halloween Tours with two amazing parties included!
Private Tours are the answer for people with unpredictable schedules. These itineraries depart on a date chosen by you. Just contact us and we'll discuss all the details. In addition to this, a tailor made experience has another advantage: you will travel with a smaller group, consisting of your friends and/or family. Private Tours require at least 4 people to depart.
What do you require from your Vampire or Halloween Tours?
An important thing to consider before you book one of our tours is the reason for your traveling. Are you interested in discovering Transylvania with its Dracula related highlights and beyond? For the complete experience, choose our 7-Days tours! If you want to complement your itinerary with up to three amazing parties, choose our 7-Days Halloween Tour.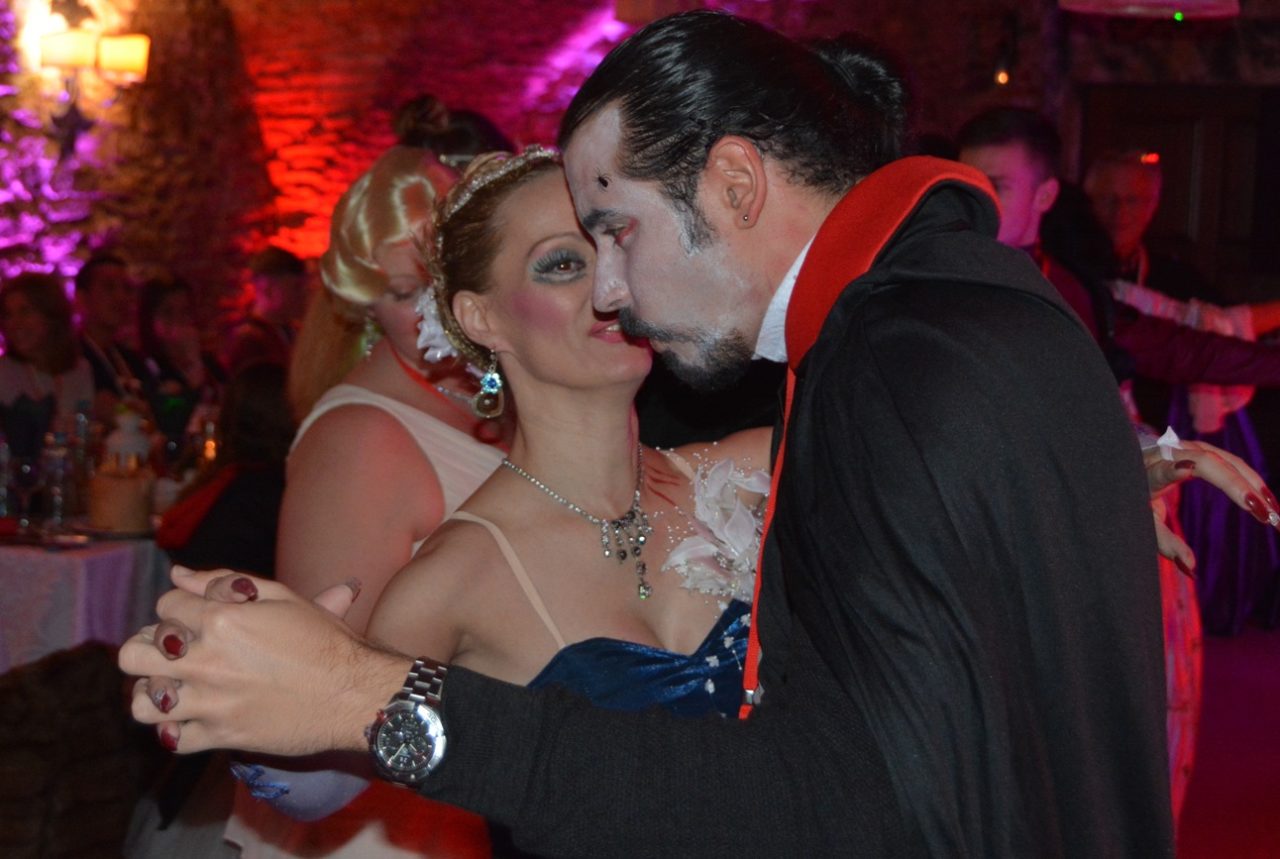 Interested in shorter Vampire or Halloween tours? Choose a 3-days tour which includes the essential highlights! These are perfect if your schedule doesn't allow you to travel for too long or if your budget is limited. The Vampire Short Break departs on request and includes our Ritual of Killing of the Living Dead, while the Halloween edition allows you to attend 2 parties: one in Sighisoara Citadel and one at Bran Castle.
We also organize 1 or 2 days Halloween tours Transylvania. We designed these itineraries to include at least one Halloween Party. The 1-day tour usually includes the party ticket only (though we recommend checking out each tour to find out specifics), while 2-days tours also include accommodation and meals.
Meet new people and make new Dracula enthusiast friends!
Choose either one of our tours, travel to Transylvania and then get ready to meet new people. We usually gather medium to large sized groups, filled with Dracula enthusiasts. Join our Vampire or Halloween Tours Transylvania, make some friends and then have fun together!
Alternatively, if you're interested in a more intimate experience, choose a private tour. Our tailor made itineraries depart with small groups, of at least 4 people. Usually, these groups include your friends or family only.
Choose your tour!
Consider everything in this article and decide which is your favorite tour! Make your choice and then book your Vampire or Halloween Tours Transylvania! Join us! Dracula is waiting for your blood you!
Have you decided on one of our tours? If so, book your Transylvanian experience now and explore the land of Dracula! Please check out our entire list of departures here.
We accept MasterCard and Visa on our on-line secure internet payment form.
MasterCard and Visa via fax and phone.
We also accept payments via PayPal and bank transfer.
At the moment of booking we require an advance deposit in the amount of Euro 145/person. Once the advance deposit is registered with our accounts we issue a Confirmation Letter.
The final payment is due 60 days prior to tour departure. Should the booking be made within 60 days prior to tour departure, entire tour cost is requested at the time of booking.
Available for free if:
You don't have a reflection in the mirror,
You decompose when sunlight strikes you,
You're over 200 years old,
Can use your wings to fly to Transylvania,
Well, this holiday is free for you! Come join your fellow vampires in Transylvania:-)
Blood treats not included!
Other mentions
Once you realize the price of good beer and wine you will probably not want to return to your country.
People speak plenty of English in Romania and you will find the locals and the other tourists are friendly and open.
No visa is required and you can get green card extension insurance from your insurer to cover Romania.
Media Mentions
• We're pleased to say that Transylvania Live has recently garnered the attention of several publications and broadcasts
more details here