Halloween Party in Transylvania with Vlad the Impaler – Sighisoara Citadel, Cluj-Napoca departure, 2-Day Tour
Facebook Twitter Pinterest Shares Top Halloween Break – 2-Days Halloween Party in Sighisoara, Cluj-Napoca Departure Have fun during a top Halloween break. Spend…
Overview
Trip Outline
Trip Includes
Trip Excludes
Gallery
Reviews
FAQ
Top Halloween Break – 2-Days Halloween Party in Sighisoara, Cluj-Napoca Departure
Have fun during a top Halloween break. Spend two amazing days in Transylvania. Meet our guide at Cluj-Napoca airport and then travel to Sighisoara Medieval Citadel. For this tour, you have the opportunity to choose between 3* and 5* accommodation. These details will be set up after your booking so that everything is prepared upon your arrival in Romania. While this itinerary does not include any visits, we guarantee you will spend a night to remember during our Halloween Party!
Your 2-days top Halloween Break includes transfer from Cluj-Napoca to Sighisoara and back. Furthermore, the price also covers your accommodation and access to our Halloween Party. Alternatively, we organize other itineraries such as our
3-days Short Break
or the
complete 7-Days tour
. If you intend to visit important highlights as well, we recommend one of these tours.
Top Halloween Break with party in Transylvania – Highlights:
Ritual Killing of the Living Dead – help a haunted spirit to gain his peace – attend the ritual of killing a Living Dead meant to introduce you to the genuine Transylvanian folklore-as seen on Travel Channel – learn more.
"Witchery Moments" with Eduard & Bianca –  amazing magic show, performed by two of Europe's most innovative and dynamic magicians.
Vampiresa Hunting – an impressive ballet performance of professional ballet dancers led by Emilia and Dorin Milea, who were rewarded for the medal of Excellency for their cultural activity.
The Medieval Saxon Citadel of Sighisoara – Dracula's birth place, the best preserved medieval citadel in Europe, a UNESCO World Heritage Site
Romanian Folk Show
Best Female and Male Costumes and Howling to the moon contests
Vampire Treats: indulge yourself with a Vampire dinner and then join us for the Halloween Sweets bar, to find out why it's worth killing for a meal!
Top Halloween Break – Party Program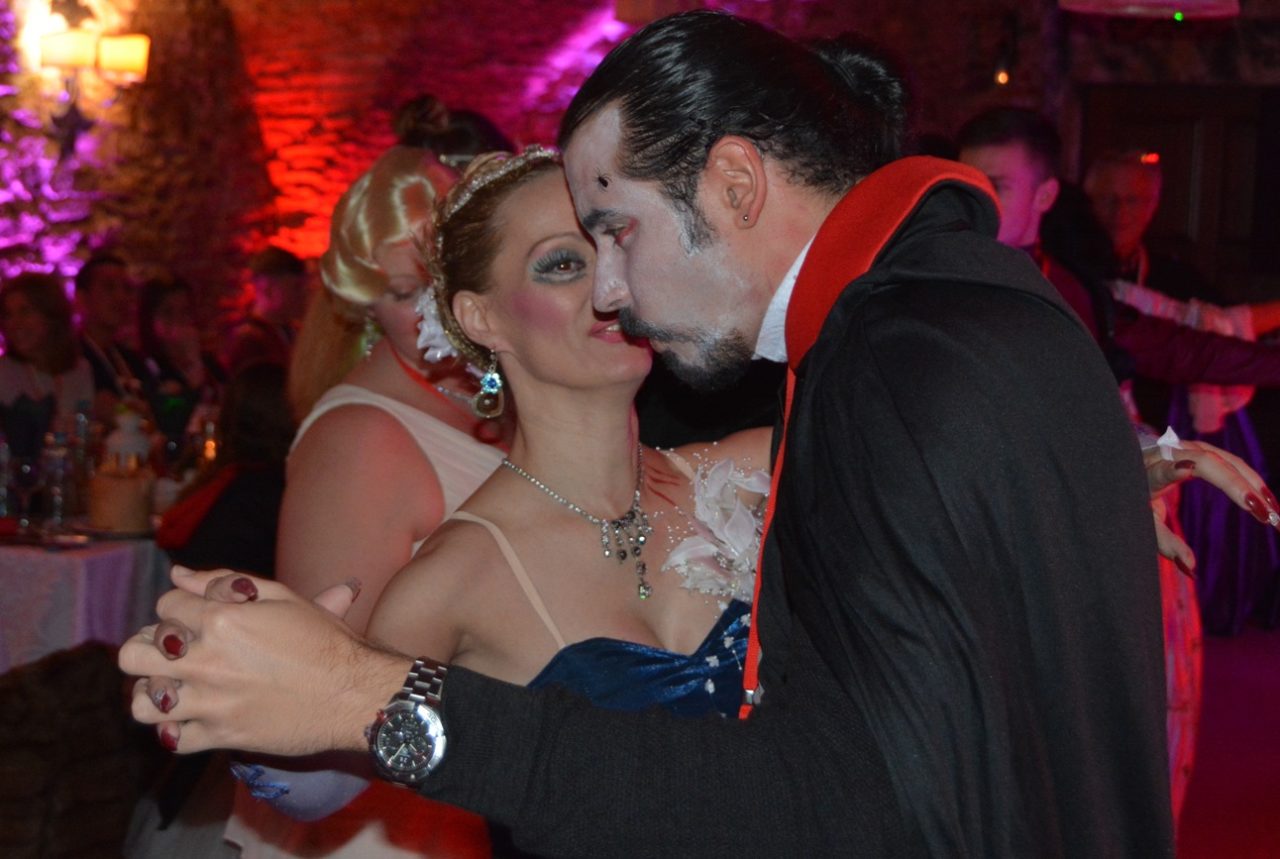 Have fun at our Halloween Party in Sighisoara Citadel. Discover our 'water of fire' ('tuica' in Romanian) and then enjoy a delicious dinner complemented by a special schedule. Throughout the evening, attend a breathtaking magic show, followed by a unique choreography titled 'Vampiresa Hunting'. Without a doubt, the highlight of the evening is our Ritual of Killing of the Living Dead. Help us save an unfortunate soul from the evil 'strigoi'!
Make sure you bring a scary Halloween costume with you. We organize a competition and then we award the best male and female costumes. All the participants are presented and then our jury will choose the winners. During this Halloween Party in Transylvania, you can also take part in a Best Howl to the Moon contest. If you survive all these events, join us, have fun and dance with us till morning!
This is an overview of your Halloween tour with party in Transylvania. For more information, including the complete itinerary, please scroll up and then use the product's menu to navigate.
Spend an amazing holiday in Transylvania! Attend the best Halloween in Transylvania 2019 tour from Cluj Napoca! Book your tour now and then let us take you on a Halloween journey you won't forget!
We accept MasterCard and Visa on our on-line secure internet payment form.
MasterCard and Visa via fax and phone.
We also accept payments via PayPal and bank transfer.
At the moment of booking we require an advance deposit in the amount of Euro 145/person. Once the advance deposit is registered with our accounts we issue a Confirmation Letter.
 The final payment is due 60 days prior to tour departure. Should the booking be made within 60 days prior to tour departure, entire tour cost is requested at the time of booking.
Departures:
Level of hotel classification
Price per person
(2 persons to one double room)
Price for Single Traveler
Availability
2 day tour. Departure October 30, 2020 or October 29, 2021, from Cluj-Napoca, 10.00 am (GMT +02:00).**Earlier departure is possible based on group members' consent.
5* Accomodation
€ 519
€ 599
Free
3* Accomodation
€ 439
€ 479
Free
Only Halloween Party
(whitout transfers and accommodation)
€ 249 / adult
€ 79/ children
Free
Departure Guaranteed
These tours are guaranteed to depart on the dates given, as we do not insist on a minimum number of bookings before departure.
Available for free if:
You don't have a reflection in the mirror,
You decompose when sunlight strikes you,
You're over 200 years old,
Can use your wings to fly to Transylvania,
Well, this holiday is free for you! Come join your fellow vampires in Transylvania:-)
Blood treats not included!
Other mentions
Once you realize the price of good beer and wine you will probably not want to return to your country.
People speak plenty of English in Romania and you will find the locals and the other tourists are friendly and open.
No visa is required and you can get green card extension insurance from your insurer to cover Romania.
Media Mentions
• We're pleased to say that Transylvania Live has recently garnered the attention of several publications and broadcasts
more details here
People were also interested in these tours:
Please check your itinerary below:
Itineraries
Day 1
Cluj-Napoca - Sighisoara (160 km, 2h 39 min driving)
We pick you up at 10 AM. Our driver will transfer you to Sighisoara. Accommodate in a 3* hotel located in the heart of the Medieval Citadel. *Departure also available from Cluj-Napoca Airport (157 km, 2h 40 min driving) or Sibiu Airport (94 km, 1h 40 min driving) 20 : 00 Put on your costume and get into the mood, this is the reason for your travel to Transylvania. Prepare yourself for Halloween Party. You'll enjoy a delicious traditional Romanian festive dinner washed down with fiery spirits, excellent Romanian wine and accompanied by a special program including the Ritual of Killing of the Living Dead ( as seen on Travel Channel), professional ballet dancers and witchery moments with 2 incredible young magicians.
Day 2
Sighisoara - Cluj-Napoca (160 km, 2h 39 min driving)
We transfer you back to Cluj-Napoca airport.
Transportation: transfer from/to Cluj-Napoca (Sibiu or Bucharest) airports
1 night accommodation in Sighisoara, 3* hotel
Meals: 1 breakfast, 1 Festive Halloween Party Dinner – 3 course meal, Open Bar from 20.00 – 24.30, dessert – Candy Bar.
Special events: Halloween Party in Sighisoara Citadel
Plane ticket

Airport fees

Photo & video tax

English speaking guide

Lunches

Entry fees to tourist attractions

Other not mentioned.



Add-on program with Transylvania Live
Choose special activities and then complete them before or after your tour. Available experiences include: